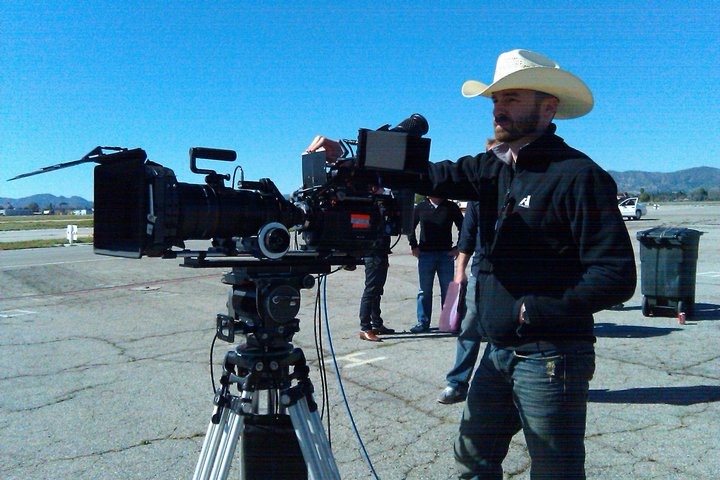 MATT MERCER, DIRECTOR, PRODUCER, FOLEY MERRICK (LEAD ACTOR), EDITOR, SOUND EDITOR
A native of coastal Virginia, Matt began his career performing in stage plays and ultimately shifted into acting in and making films. He graduated from the Center for Dramatic Art at the University of North Carolina - Chapel Hill and the British-American Drama Academy at Oxford, UK. A longtime fan of genre films, Matt began pursuing more feature film work in that realm and has secured a consistent niche as an actor in indie horror, sci-fi, and action movies. Some of these films include Madison County, Diary of a Serial Killer, The Poisoning, Few Options (with Rainn Wilson, Brad Dourif, and Michael Sheen), Auteur, Airplane vs. Volcano (with Dean Cain and Robin Givens), and House of the Righteous (with Edward James Olmos). A few years ago, Matt began stepping behind the camera. He produced and starred in the hit independent horror feature Contracted with frequent collaborator Eric England (Madison County). Released domestically by IFC Films, Contracted hit number one on VOD rentals and Netflix streams in its first week of release on each respective platform. It had a subsequent theatrical release and garnered a sequel for IFC, Contracted: Phase II, due out later this year (in which Matt returns in the lead role). Since then, Matt has continued to make and work on content under his company, Rubric Pictures. He directed, edited, and produced the feature film dramedy You or a Loved One, which is currently on the festival circuit and is scheduled for release later this year. He has also made a variety of short content for myriad platforms and has two more short films, Play Violet for Me and Tail, currently in post-production. Additionally, he works as a freelance editor on television shows, for networks including CBS, Discovery, Pivot, and VH1. Most recently, Matt has completed work in several upcoming features, including Allen Gardner and Brad Ellis' comedy Bad, Bad Men, Jackson Stewart's thriller, Beyond the Gates (with Barbara Crampton), and Joe Begos' telekinesis revenge film, The Mind's Eye (with Noah Segan and Larry Fessenden). RubricPictures.com IMDB Page
KEVIN SLUDER, WRITER, Executive Producer
A graduate of the University of North Carolina - Chapel Hill with a degree in Radio, Television and Motion Pictures, Kevin began his career as Director of Development with Esperanza Productions. While there, he developed/marketed projects by Oscar-nominated screenwriter Jose Rivera (The Motorcycle Diaries, On the Road) and Oxford Literary Award winning novelist Donald Harrington (With), among others. Soon after, he began screenwriting full-time, specializing in medium-budget sci-fi and low-budget horror. A Nicholl Fellowship Semi-finalist and two-time Script Pipeline top 20 finalist, Kevin received a Tracking-Board "Recommend" for his script, The Memory Sphere, in 2014. He subsequently placed on the 2014 Young and Hungry List, naming him as one of the industry's top 100 "Screenwriters on the Verge". Later that year, he started up his company, Sunshine Boy Productions, and produced his first short film, Play Violet for Me, with producer/director Matt Mercer. SunshineBoyProductions.com IMDB Page
NAJARRA TOWNSEND, VIOLET DUPREE/LYLA DUPREE (LEAD ACTOR)
Najarra knew what she wanted to do in life by the time she was three. She started modeling and also performing in local stage productions, continuing to be deeply involved in both theater and musical productions throughout her childhood and teenage years. At ten, she made her big screen debut co-starring in the film "Menace". Najarra's performance in the Sundance and Cannes award winning "Me and You and Everyone We Know" in 2005 drew international notice. She has played the titular character in various films, including: "Tru Loved", "Marin Blue", "Betty I am" and has appeared in various other indie favorites. Most recently audiences got to see a new side of the young actress in the IFC Midnight horror hit "Contracted". She currently has several films in pre-production and post. Najarra hopes to continue to devote her life to these things she loves and that inspire her. IMDB Page
JOHN PAUL ROMEO, REMY O'HARE (SUPPORTING ACTOR), Associate Producer
John Paul Romeo began pursuing acting in 2011, and after booking a lead role in a series of industrial films, he then appeared on television for the first time on an episode of '1000 Ways to Die', utilizing his martial arts/stunt background and comedy training to improvise jokes and to perform his own stunts. He was soon asked back for another episode of the show on the following season, this time with a lead role. That year he also appeared on television with a scene in 'Crime Lords of Tokyo' on National Geographic, as well as appearances in various music videos, securing a supporting role in the 'Dia Frampton: The Broken Ones' video. Romeo landed recurring roles on the webseries 'Deception and Lies', as well as on 'DTLA', which the following year became the first Kickstarter.com production to ever receive national and international distribution, airing on the LOGO Network in the U.S.A., OUTTv in Canada, and finally currently airing on NetFlix. Other webseries include 'The Adventures of Dude and Bro', and two others that Romeo co-wrote and co-produced, 'Appropriate Content', and 'The Bachelorette; Unpolished', which got approval to be aired on FunnyOrDie.com. In 2013 Romeo enrolled in AWS: The Actor's Workout Studio, studying Meisner, improv, and method acting. The following year he also took scene study and theater classes and appeared in his first two stage plays. Since then Romeo has begun taking private coaching lessons with John Homa/JHProds, appeared in commercials for Subaru and Best Buy, and appeared in Nickelodeon's 'Chase Champion'. John Paul Romeo makes his debut in the independent film world, performing in 'Play Violet for Me'.
PATRICK MCGINLEY, CINEMATOGRAPHER
Patrick was born in Philadelphia, raised in Texas, and currently lives in Southern California. Growing up with an amateur photographer father, he naturally gravitated towards a camera. Patrick attended the University of North Texas earning his BFA in Radio/TV/FIlm with an art photography minor. From there he went on to the American Film Institute, honing his skills as a visual storyteller. Patrick is also an avid photographer, self-publishing several books and having his first solo exhibit in January 2013 at the San Luis Obispo Museum of Art, entitled "Below the Line". PatrickMcGinley.com
MARK HADLEY, COMPOSER
Mark Hadley is a Los Angeles based composer and producer whose music can be heard in media from TV shows (The Exes, Twisted) to films, trailers, commercials, and even a contemporary dance. The music Mark creates is branded by unique, homemade sounds, organic and synthetic, drawn from the narrative with a goal of taking the listener on a journey through an immersive sonic environment. In addition to composing, Mark performs and records on occasion as a session musician. Studio guitar playing credits include TV shows like Modern Family, Marry Me, Trophy Wife, Bent, Rectify, and Jane By Design, in addition to films and many albums. Originally from Rochester, NY, Mark being studying music on the piano at a very early age. After picking up the guitar at the age of 12, Mark began to study the instrument intensively, and accepted a generous scholarship to attend Berklee College of Music after graduating from High School in 2007. Mark graduated from Berklee in 2011, magna cum laude, with a dual degree in Film Scoring and Guitar Performance, and now resides in Los Angeles, CA. You can hear Mark's work at www.markhadley.la.
Gabe Arredondo, Assistant Director, Co-Producer
Gabe Arredondo is an actor and producer, known for Bad, Bad Men (2015), Being Awesome (2014) and We Got Lucky (2015).
Jose Luis Gonzalez, Second Assistant Director, Associate Producer
Jose Luis Gonzalez was born on January 8, 1985 in Miami, Florida, USA. He is known for his work on Contracted (2013), Dostana (2008) and House Hazards (2012).
Ryan Walsh, Associate Producer
Ryan Walsh is an actress and producer, known for Call to Action (2012), Rogue Hoes (2014) and Lifelines (2008).
Jennifer Sluder, Production Design
Jennifer Sluder has always had a love of the art of cinema and beauty of design. Film making is an avocation and she enjoys her role as number one fan and occasional muse for her husband, Kevin Sluder.
Mariah Kraft, Key Make up Artist
Mariah Kraft is a Los Angeles based Makeup artist and hair stylist. She is working professionally doing commercials, television, film, and photo shoots with some of the top photographers and filmmakers in Los Angeles and San Diego. Mariah is a hard working dedicated individual who loves to challenge herself. Keeping up to date with the latest techniques and tricks is what sets her apart.
Lindsey McDaris, Makeup Artist
ERnest J. Saunders, Sound Mixer
JESSE CURL, GAFFER
NATALIE FONG, ASSISTANT CAMERA
Chris Bouffard, Production Assistant
Rachel Marie Ferrell, Production Assistant
Eric Roseman, ProDuction Assistant
Eric Slee, Production Assistant
Katie Wise, Caterer